San Francisco Travel Guide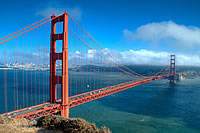 San Francisco is a lively, vibrant city with a relaxed european feel. It has a dramatic cityscape featured in many films and TV series and of course the world famous cable cars, golden gate bridge and Alcatraz.
Location
California, USA
Climate
San Francisco's weather can be a bit of an anomoly. Summer is the prime tourist season but the weather can be unpredicatable and Spring & Autumn generally have the best weather
Currency
US Dollars
Time Difference
GMT -8 Hours
Transfer Time
30 Minutes to city centre by taxi. Airport buses and BART system also available.
Hotels
There is a vast choice of hotels in San Francisco, ranging from charming B&Bs to Victorian Mansions and 5* hotels. Prices are lower than many US cities.
Attractions
Too many to mention! Golden Gate bridge, Alcatraz, Cablecars, Fishermans Wharf, Union Square, Chinatown are must sees.
Shopping
Union square has many shops, department stores and boutiques.
Excursions
Get a bus out to Sausalito and cross the Golden Gate bridge. The views are amazing. Helicopter trips over the bridge are also available. Alcatraz island is a must see but book in advance during high season
Family
San Francisco like most American cities has good family provision, Including child friendly hotels and restaurants.
Getting Around
Cars are not advisable in downtown SF instead use the cable cars or trolley buses or go by foot but we warned it is hilly! To explore the redwood forests or National Parks, hire a car.