Cape Verde Islands Travel Guide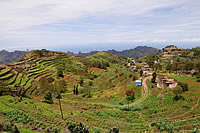 This beautifully unspoilt archipelago offers the perfect holiday destination for those looking for a quiet break filled with sunshine. Cape Verde's islands are predominantly mountainous, resulting in magnificent scenery and plenty of scope for day trips.
Location
Off the west coast of Africa
Climate
Subtropical with temperatures usually between 25 and 30 degrees C for most of the year.
Currency
Cape Verdean escudo
Time Difference
BST -3
Transfer Time
Cape Verde's main airport, Sal International, is located on the island of Sal. Sal is home to tourist spot Santa Maria, which is connected to the airport by road with lots of taxis on hand to take you there. Local airline TACV operates internal flights to other islands in the archipelago, including Santiago, on which the capital Praia is situated.
Hotels
umerous hotels are scattered across the archipelago's inhabited islands and islets. Travellers can expect to find the majority of these hotels on Sal and Santiago, but there is plenty of choice on the other islands. Hotels range from budget accommodation to four-star premises and apartments.
Attractions
As a former Portuguese colony, Cape Verde has plenty of crumbling colonial buildings to admire, as well as a host of Latino bars and restaurants. For pure fun in the sun, however, check out Santa Maria on Sal for a wide range of watersports in sparkling blue waters and for lazing around on its main beach. Fishing and sailing activities are also available.
Shopping
Cape Verde is packed with little shops and markets that are more often than not hidden away behind seemingly innocuous doors. Boutiques and stalls selling beachwear and gifts are prevalent across the islands, with indoor markets offering a bounty of edible delicacies.
Excursions
If you're planning on staying on Sal, the island is half-covered in gloriously beautiful wilderness ripe for exploration. Try checking out the salt mines and lake at Pedro de Lume, with the lake so salty it offers a strangely floaty experience similar to that found when bathing in the Dead Sea. Or why not experience the laid back atmosphere of the island of Maio, reachable from Santiago by air or ferry? For the more adventurous among you, take a trip to the island of Fogo and hike up Cape Verde's only live volcano.
Family
Sal is the best place to stay if you've got little ones in tow, as children are more often than not endlessly fascinated with the delights of sun, sea and sand. Its tourist-focused attractions also mean that there are a number of options for mini day trips, as well as suitable cafes and restaurants to accommodate the picky tastes of young children.
Getting Around
On each island, taxis and buses are the main way to travel. If you're going island-hopping, there are internal flights to most of the islands, with a ferry service available between a smaller selection of points.