Singapore Travel Guide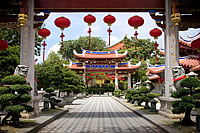 The city-state of Singapore is surprisingly modern with teetering skyscrapers and shiny steel and glass galore, but it still has numerous attractions of historical interest. Singapore's mishmash of various cultures, fantastic shopping and exquisite cuisine also combine to offer the perfect long-haul city break destination.
Location
South-east Asia, close to Malaysia
Climate
Singapore enjoys a warm, tropical climate where temperatures swing between 23 and 31 degrees C on average year-round. Rainfall is spread throughout the year, although it is heaviest during the monsoon, between November and January.
Currency
Singapore dollar
Time Difference
GMT +8
Transfer Time
The city centre is most accessible by a 27-minute train ride from Singapore Changi Airport, which is located about 12 miles away, with the MaxiCab airport shuttle also on hand to offer a quick lift. The number 36 SBS service is the one to catch if you want to travel by bus, while taxi stands are available outside the arrival halls in Terminals 1 and 2.
Hotels
Singapore is well served by an array of lodgings catering for the needs of all types of traveller. Cheap accommodation is on hand for those traversing the backpacker trail through south-east Asia, while mid-priced hotels such as the retro Hotel 1929 and the Berjaya Duxton cater for those with a little more cash. Elsewhere, you can lounge in luxury at the classically styled Raffles Hotel or the Pan Pacific Singapore.
Attractions
As well as the usual city attractions such as museums, gardens and impressive monuments, Singapore offers a diverse range of sights that reflect its status as a truly multicultural region. Check out the various 'ethnic quarters' - including Little India, Chinatown and the Malaysian Geylang Serai - or explore the numerous places of worship, such as the Armenian Church, the Buddha Tooth Relic Temple and the Central Sikh Temple, among others.
Shopping
Singapore is a haven for those who love to shop. If you fancy some late night retail therapy, the Mustafa Centre in Little India is the only 24-hour department store in Singapore and sells a wide variety of goods. If you prefer a more relaxed environment, head to the bohemian Holland Village and grab yourself a bargain antique or film souvenir. There are a number of tax-free outlets throughout Singapore, so keep your eye out for those if you're on a tight budget.
Excursions
With Malaysia being just a short train or ferry ride away, it makes sense to take the opportunity to visit while you can. You could also fly to other nearby countries for a weekend excursion - head north to explore the mystique of Thailand, Cambodia and Vietnam, or go south to exotic Indonesia.
Family
Young animal lovers will find much to occupy themselves with in Singapore, such as a visit to the Dolphin Lagoon, Jurong BirdPark or Singapore Zoo. Elsewhere, the futuristic Images of Singapore museum offers a hi-tech insight into the city's history, while the Singapore River provides activities such as cruises and tours.
Getting Around
If you're likely to use the bus and mass rapid transit (MRT) system a lot, get yourself an ez-link card to simplify matters. Both standard and tourist buses are on hand to ferry travellers around the city, while the MRT offers a speedy way of getting to Singapore's major areas of interest. Taxis and hire cars are also on hand.