Thessaloniki Travel Guide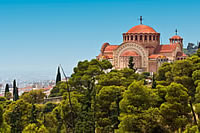 Looking for an alternative city break to a week in Athens? It might be an idea to check out Thessaloniki in the Macedonian region - as Greece's second largest city and the home of several major festivals, it has much to offer holidaymakers looking for a culture-filled but relaxing Mediterranean getaway.
Location
North-eastern Greece
Climate
Maximum temperatures range from about nine degrees C in January to 31 degrees C in July. In winter, temperatures can plummet to lows of one to two degrees C. For the most part, however, Thessaloniki enjoys a normal sunshine-filled Mediterranean climate.
Currency
Euro
Time Difference
GMT +2
Transfer Time
Thessaloniki's international airport is located about 25 minutes' drive from the city. If you're not going to rent a car there are bus services available, costing about €0.50 (34p), or you can jump in a taxi for around €11 (£7.40).
Hotels
There are lots of hotels to choose from in Thessaloniki, whatever your budget. Prices range from around £17 for a cheap bed suitable for backpackers to £150 for a room with all the trimmings. Recommended mid-priced hotels include the Tourist Hotel on Mitropoleos St and the Olympia.
Attractions
The White Tower of Thessaloniki is a Byzantine landmark that is usually the first port of call for tourists. Elsewhere, Ano Poli, or the upper town, is a relic of the Ottoman period and features a host of beautiful churches to gaze at. Some fascinating museums include the Jewish Museum of Thessaloniki, the Thessaloniki Archaeological Museum and the Museum of Byzantine Culture.
Shopping
All manner of goods can be bought from the concentration of shops and market stalls within the city centre. Whether you're looking for some leather accessories or a new Greek delicacy to try, it's likely that you'll quickly find what you're searching for. If you prefer your shopping to take place in the most modern of facilities, there's a mall beneath the US consulate; otherwise, take the time to explore Thessaloniki's myriad side streets and precincts.
Excursions
Head south out of the city towards the Halkidiki region and explore its three peninsulas over two or three or days - there's much to see, including the spectacular Kassandra white sand beach and Mount Athos. The views are fantastic with bright sandy shores contrasting with shimmering blue waters up and down the coastline.
Family
The Natural History Museum is often recommended as a fascinating attraction for children, as is the Municipal Art Gallery. You could make sure your trip coincides with colourful events such as the Thessaloniki Film Festival, or take the kids to the port and watch the comings and goings of the various ships and boats that are vital to the city's economy.
Getting Around
If you're sticking to the city centre, it might be best to remain on foot rather than get a bus, as they can be overcrowded most of the time (albeit very cheap). There are no other forms of public transport available apart from taxis, but construction on a subway system is currently underway.