Sofia Travel Guide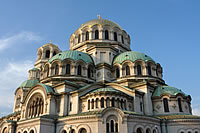 Holidaymakers looking for a culture-filled city break in an emerging destination country might want to head to Bulgaria and take in the delights of its capital. Sofia is packed with beautiful architecture, museums and churches, as well as nodding to modernity with a host of clubs, music venues and shops.
Location
Western Bulgaria
Climate
Sofia has a moderate climate where temperatures can soar as high as 30 degrees C in the summer and sink to below freezing point in the dead of winter. The weather starts to become pleasant in May, with the heat becoming most stifling in August before becoming bearable again in September. However, due to the city's high altitude it is not quite as hot as some other parts of the country.
Currency
Bulgarian lev
Time Difference
GMT +2
Transfer Time
Sofia Airport is located about 7.5 miles from the centre of the city and is accessible by two bus services that connect directly with both terminals, as well as by shuttle bus and taxi. Yellow taxis are the recommended form of transport, but be wary of drivers who try to charge an unmetered - and therefore expensive - fare.
Hotels
Those with cash to splash might like to know that Sofia is home to a luxurious Hilton hotel. For others, however, there are plenty of more moderately priced options, including Hotel Niky, California Hotel and Hotel Brod. Alternatively, why not go even cheaper at one of the city's numerous hostels, or opt for independence in a rented holiday apartment?
Attractions
The Aleksander Nevski Memorial Church is perhaps the most well-known of Bulgaria's attractions. This spectacular building is not just awe-inspiring to look at - it also houses a wide range of artefacts from around Bulgaria. Other eye-catching buildings include the Russian Church and the Church of St George, while the Bulgarian National Historical Museum and the National Gallery of Foreign Art offer other cultural delights. And of course, you can't visit Bulgaria without taking a dip in one of its many relaxing natural thermal baths, so make sure you head to the Sofia Public Mineral Baths at the earliest opportunity.
Shopping
Sofia has it all in terms of shopping, whether you fancy a stroll around fragrant food markets or a pure retail experience at a more modern mall. Make sure you explore the city's little lanes and pop your head round the doors of the many tiny shops, as you can never be quite sure what you'll find. The antiques market by the Aleksander Nevski Memorial Church is perfect for paintings and other miscellany, while Boulevard Vitosha is the place to go if you want to treat yourself - or others - to some expensive goods.
Excursions
It's worth making the short trip to Mount Vitosha from Sofia and indulging in a mountain trek or two. Other worthy natural sights outside the city include the Iskar Gorge in the Balkan Mountains and the old town of Koprivshitsa.
Family
Kids are likely to enjoy Sofia's many markets and their bustling atmosphere, as well as the natural attractions outside of the city limits - a chairlift ride up Mount Vitosha is sure to thrill teens. For a more leisurely family holiday, Sofia is home to plenty of parks for the odd picnic. For those looking to make their break an educational one the National Archaeological Museum's treasures may do the trick.
Getting Around
There are plenty of buses and cheap taxi services in Sofia, as well as trams and trolleybuses. You can also rent a car if you're planning on travelling outside the city for a day trip or two.