Sharm El Sheikh Travel Guide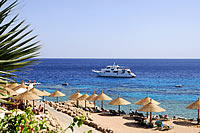 Sharm El Sheikh is one Egyptian destination that is giving Cairo a run for its money in terms of popularity with tourists. The city offers plenty of sun, sand and sea to suit even those wanting the most relaxed of holidays, while exciting excursions and sights are available both within its boundaries and beyond.
Location
Western Egypt, on the south coast of the Sinai Peninsula
Climate
Sharm El Sheikh enjoys a dry and temperate climate, with average temperatures able to reach a low of 13.3 degrees C during January and a maximum of 37.5 degrees C in July and August.
Currency
Egyptian pound
Time Difference
GMT +2
Transfer Time
Sharm El Sheikh Airport is located to the north-east of the city and is about 20 minutes' drive between the two points. Car hire facilities are available at the airport, as is a minibus service. Visitors should also be aware of the two kinds of taxis on offer: normal taxis and tourist taxis, which tend to be more expensive than normal ones.
Hotels
Hotels in Sharm El Sheikh are generally concentrated at the numerous resorts in the area. However, these can be moderately priced, with rooms ranging from about £30 for basic lodgings to upwards of £260 for a room with all the trimmings. Most of the big name five-star chains have a hotel in the city if you want a truly luxurious experience.
Attractions
The obvious place to start is the city's beautiful beaches, which are plentiful and perfect for lazing around on. If you're feeling a bit more active, Sharm El Sheikh offers excellent diving facilities, particularly along the ten-mile stretch of beach between Sharm the city and Ras Nusrani, while the resorts offer the usual restaurants, nightclubs and bars. You might want to check out Little Buddha, a sushi bar and club which was found to have the longest continuous bar in the Middle East in 2005.
Shopping
The shops in Sharm El Sheikh provide a range of local and international goods, including jewellery, pottery, books, clothing and leather products. Numerous markets and stalls offer an enjoyable and colourful browsing experience for holidaymakers.
Excursions
The most recommended excursion is probably a trip out to the magnificent desert. Guided tours to the Bedouins, the Coloured Canyon and Mount Sinai are available from several of Sharm El Sheikh's hotels. If you can find a guide by yourself you'll be able to do the tour on camelback - a truly unique experience. Elsewhere, the national park of Ras Mohammed has much to see in terms of gorgeous views and a variety of wildlife.
Family
A number of family resorts are on hand to provide a range of facilities and entertainment to keep children occupied. If you fancy taking the kids on a trip outside the resort, the Aqua Land water park and the aforementioned Ras Mohammed national park offer welcome alternatives to lounging around by the side of the pool.
Getting Around
Buses offer a low-cost way of travelling around the city and there are also plenty of taxis on hand to get you where you're going that little bit faster. Make sure you don't pay over the odds just because you're a tourist, though.