Stockholm Travel Guide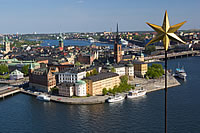 Stockholm is a bustling, historic city that is uniquely located across 14 islands. It boasts a cosmopolitan atmosphere and more culture than you can shake a stick at, making it the ideal city break destination - particularly in the summer.
Location
Eastern Sweden
Climate
Stockholm experiences relatively mild summers and cold winters. Temperatures can reach average highs of 22 degrees C in June and July, while winters can be as cold as minus five degrees C in January and February.
Currency
Swedish krona
Time Difference
GMT +1
Transfer Time
Arlanda Airport is located about 40 kilometres to the north of Stockholm. Travellers can get from the hub to the city via a special airport coach or the Arlanda Express rail link, which is quicker with a 20-minute journey time. Taxis are also readily available.
Hotels
Stockholm is home to some 300 traditional and designer hotels, offering plenty of choice for all and tens of thousands of beds. There are also numerous youth hostels, campsites, bed and breakfasts, and rentable holiday homes on hand to provide alternative accommodation.
Attractions
There are about 100 museums in Stockholm, offering up a wide variety of culture and history to browse. Some examples include the Swedish Museum of Architecture, the Silk Weaving Museum and the Royal Coin Cabinet. Other popular attractions include the Kulturhuset Cultural Centre and Viking sites in areas such as Bjorko and Adelso, as well as walking and boat tours of the city's various islands.
Shopping
Stockholm has shops that cater for pretty much every desire you can think of. The main shopping districts stretch from Hotorget to Gamla Stan and from Hamngatan, Kungsgatan and Biblioteksgatan to Stureplan. Sodermalm is one of the best areas for fashion, while department stores and shopping centres include Sturegallerian and PK-Huset.
Excursions
Why not take a ferry trip around the archipelago, or head to nearby Uppsala or Sodertalje? You could also hop across the Gulf of Bothnia to Finland, or perhaps travel west to Norway.
Family
The Tivoli - Grona Lund amusement park is one of the most popular attractions in Stockholm and ideal for families. The Eriksdal swimming pool is great for some gentle exercise, while the Toy Museum is likely to prove particularly interesting to young ones.
Getting Around
Stockholm boasts an excellent transport system comprising buses, commuter trains, an underground service, passenger boats and taxis. Purchase of the Stockholm Card will provide visitors with free access to public transport in the city, as well as free entry to a variety of attractions, museums and sightseeing boat tours, meaning that the card could be a good investment for those planning to spend much of their time travelling around the city.