Seville Travel Guide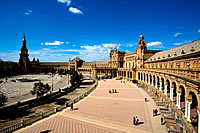 Seville's tourist board presents the city as the cultural and social centre of southern Spain - and with good reason. This beautiful city is an ideal destination for those looking to indulge in a short city break, particularly in the spring when there are numerous events to choose from and in the summer when temperatures are at their highest. Seville has much to offer tourists looking for a picturesque, history-filled holiday.
Location
Andalucia, southern Spain
Climate
Seville enjoys a typical Mediterranean climate that brings scorching temperatures in July and August, and milder weather during the winter. Daytime temperatures can soar into the mid to high 30s degrees C during the summer, while winter temperatures generally average out at about 11 degrees C.
Currency
Euro
Time Difference
GMT +1
Transfer Time
San Pablo International Airport is situated about ten kilometres from the centre of Seville. A special shuttle bus between the two points runs from the early morning to around 23:30 local time every day. You can also grab a taxi or hire a car.
Hotels
There are almost 20,000 hotel rooms up for reservation in Seville, with lodgings ranging from one to five-star accommodation. You could stay at a traditional hotel in the city's historic districts, or perhaps book a room at one of the sleek modern establishments recently built in the newer neighbourhoods.
Attractions
Seville has so many cultural and historical attractions you might need to make another visit to see them all. Just a few highlights include the Plaza de Espana, the Maestranza Museum and bullring, the impressive city cathedral, and the Museum of Fine Arts. In terms of nightlife, Seville caters well for all crowds, including fans of popular music (the Plaza del Salvador) and those with more alternative tastes (Alameda).
Shopping
Shoppers can browse local goods such as ceramics and pottery at various markets and specialist stores, or check out fashion and other goods from some of the city's foremost designers, as well as more famous international names, along the Calle Tetuan and Plaza Nueva.
Excursions
There is much to see and do in the villages around Seville. The Castillo de las Guardas natural reserve is home to nearly 1,000 animals from across the globe, while the town of Guillena plays host to Mundo Park, which is a must-see for aspiring botanists. Elsewhere, Carmona has a zoo that boasts the near-extinct Iberian lynx.
Family
There are numerous theme parks in and around Seville, including the Isla Magica, the Parque Acuatico Acropolis Sevilla water park, New Park, Camelot Park and more. Children may also enjoy the city's various festivals, such as the Seville Fair.
Getting Around
Seville has a comprehensive bus network that will take visitors to most points throughout the city. You can also make use of the numerous taxis to get around, although traffic levels tend to be too high to travel relatively quickly by road in the city centre. In addition, the city is due to open a new metro service in the near future.