Sydney Travel Guide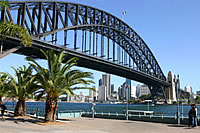 Sydney is the premier Australian city. With it's splendid Opera House and the jaw dropping Sydney Harbour Bridge it's no wonder so many people rate Sydney as their favourite city. Close by is Bondi Beach, Sydney Aquarium and many other great attractions.
Location
Mid south-east coast of Australia
Climate
Sydney has a temperate climate with a mild winter. Average daytime temperatures during winter months (June – August) are 16-18 degrees Celsius and average daytime temperatures during summer months (December – February) are 25-26 degrees Celsius.
Currency
Australian Dollar
Time Difference
GMT +11 hrs
Transfer Time
Kingsford Smith is only 10kms south of Sydney City centre and is easily accessible by airport express buses, trains and taxis
Hotels
Accommodation varies from Hostels through to Five Star Hotels and is reasonably priced and high in quality.
Attractions
Explore the The Rocks and Sydney Opera House around the harbour or walk across the famous Sydney Harbour Bridge. You can visit Taronga Park Zoo or the Sydney Aquarium. For those who enjoy the sun, the beaches of Bondi and Manly are not far from the city centre and are usually patrolled by Lifeguards. Other attractions include Darling Harbour, Royal Botanic Gardens, Fort Denison, as well as Museums, Historic Homes and Art Galleries.
Shopping
Sydney is a shopper's delight with many shops of all descriptions.
Excursions
You will find most attractions close to the City Centre or around the harbour. You can take privately run harbour cruises that depart from Circular Quay and are a great way to take in the harbour views or use the Government run Ferries to explore the beautiful harbour and its attractions at your leisure.For the beach lovers, take the Blue Bondi or Bay Explorer to visit the famous Bondi Beach and other beaches along the Sydney coastline. To see city attractions, take the Monorail or a City Circle train or public buses.
Family
Most of the attractions above have a family orientation. Most hotels welcome children and some offer discount rates for families.
Getting Around
Buses, Monorail and Ferries are the best way to see the attractions close to the City Centre. To venture further afield, there are regular train and bus services and car hire is also available.