Tenerife Travel Guide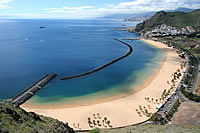 Tenerife is a lively, fun place that is perfect for families with children and the clubbing generation alike. With almost year round sun and low annual rainfall, it is the perfect place to escape the British weather. Be sure to venture out of the resort as Tenerife has plenty to offer!
Location
Canary Islands, off the West coast of Africa
Climate
The Canaries and Tenerife in particular have low rainfall and mild weather in the winter making it an ideal choice for winter sun. Summers are hot and dry with daily temperatures in the 30's
Currency
EURO
Time Difference
GMT + 1hr
Transfer Time
Varies depending on resort from 20mins to Los Cristianos to 90 mins to Puerto de la Cruz
Hotels
Tenerife has something to suit all budgets whether 2* Self catering to 5* all inclusive hotels. Accomodation is plentiful & cheap.
Attractions
Tenerife has excellent nightlife and there are many bars, restaurants and night clubs. A visit to Mt Teide, the island's dormant volcano is a great day out with breathtaking views of the island from the summit
Shopping
The Canary Islands are duty free and are excellent for shopping and there are many bargins to be had.
Excursions
Mount Tiede, Loro Park, Dolphinarium, Jeep Safari and boat trips to whale watch and catamaran trips.
Family
Though all resorts are child friendly, the all night partying of Las Americas might be too much for younger children. Los Christianos is a quieter, more relaxed location with a beach.
Getting Around
Good bus services though to explore the island hiring a car or jeep is the best way to travel.