Tallinn Travel Guide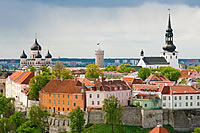 Tallinn is a place of immense historical interest that is fast becoming one of the most popular city break destinations in eastern Europe. The Estonian capital boasts an array of attractions and sights and some pleasantly cheap food and drink - an ideal mix for a short holiday abroad.
Location
On the northern coast of Estonia
Climate
Summers are warm with an average temperature of 20 degrees C and offer a pleasant climate for those unable to bear the sizzling temperatures of some of the more popular sunshine destinations. Winters can be extremely cold, however, and autumns tend to be quite rainy.
Currency
Kroon
Time Difference
GMT +2
Transfer Time
Tallinn Airport is located about four kilometres to the south-east of the city centre. A main bus service (the number two) runs between the two points every 20 minutes, with shuttle buses also on hand to ferry passengers to the main hotels. Taxis are also available, with car journeys taking around ten minutes in total.
Hotels
There are plenty of hotels, bed and breakfasts, guest houses and hostels to suit every budget. Decent mid-priced rooms tend to start at around the €50 to € 70 (£35 to £47) mark, with apartment hire also available at reasonable prices. If you're looking for a little luxury, try the Merchants House Hotel or the Sokos Hotel Viru.
Attractions
As a UNESCO World Heritage Site, Tallinn has much to offer those fascinated with history. Try taking a look around the Peter the Great Home Museum, which is the cottage where Peter the Great stayed while his palace was built in the 18th century, or admire the architecture of the Alexander Nevsky Cathedral and Tallinn Town Hall and Square. If you're just looking to relax, why not visit the beautiful Kadriog park and admire Kadriog Palace from afar?
Shopping
The Kaubamaja and Stockmann department stores off Vabaduse valjak are on hand to offer all kinds of items, while the Old City's Viru Street will attract those looking for unique souvenirs and upmarket goods. A host of shops and stores selling tax-free alcohol are also located near the port.
Excursions
Due to its coastal location, the area around Tallinn is home to a number of beaches. Try venturing to Pirita, which is at its most popular in the summer, or head north to the equally popular Stroomi beach. One of the newer beaches, Kakumae, is said to have some of the cleanest waters in the region - ideal for those who fancy taking a dip. Or why not hop on a ferry to nearby Helsinki and explore a completely different city for a day?
Family
As well as the various beaches, parks and museums, families are likely to enjoy visits to the numerous farms located outside the city. Because of the low cost of food, eating out every night is also a realistic option, with the dishes available tending to be rustic and hearty - although some delicacies, such as marinated eel and blood sausage, might take a bit of getting used to.
Getting Around
Buses, trolley buses and trams constitute Tallinn's public transport network, with a variety of tickets - including timed tickets for certain periods of time - available. One way of getting as much value as possible for your money might be to purchase a Tallinn Card, which provides access to museums, transport, sightseeing tours, nightclubs and discounted restaurants for a fixed price.