St Lucia Travel Guide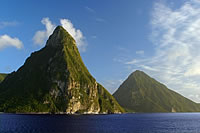 As a volcanic island, St Lucia is bubbling hub of activities for tourists, all based around its multiple natural resources. Although the capital city of Castries is the economic centre, most traveller head up to the more visitor-friendly and greener areas such as Marigot Bay and Soufriere. As a prime spot for honeymooners, St Lucia is lush Caribbean treat packed full of friendly locals, exotic wildlife, beaches and perfect pampering.
Location
Eastern Caribbean
Climate
As an island, the tropical temperatures are tempered by sea breezes, which make St Lucia pleasant to walk around and explore. Although heavy rainfalls may deter visitors in the summer, the dry season between December and May make this the perfect getaway to banish the winter blues. Temperatures average around 27 degrees C.
Currency
Eastern Caribbean Dollar
Time Difference
GMT -4
Transfer Time
Hewanorra International Airport is situated at the southern tip of the island, 40 miles away form the town of Castries, and is served by a range of international airlines such as Virgin Atlantic and American Airlines. Buses stop outside the terminus, and taxis are reasonably priced and can take passengers to all areas of the island. The smaller George F.L. Charles Airport is in the north and offers more limited flight options for passengers.
Hotels
The Inn On the Bay offers fabulous views of Marigot Bay, which can be enjoyed from a terrace swimming pool, while the hidden treasures of Nature's Paradise and Discovery are also tucked away in the bay area. The Discovery is worth noting for its idyllic restaurant and champagne bar which is accessible by the hotel's personal ferry. Castries is served by the Villa Beach Cottages while beach lovers can chill out at the Anse Chastanet in Soufriere.
Attractions
St Lucia is an island which can be taken at any pace. The bays, villages, gardens and beaches can be lazily explored and days can easily be spent relaxing, swimming and eating the delicious local food. However, with a small push of effort, the real delights of the Caribbean are ready to be found. The Rainforest Sky Tram is a wonderful way to see nature from above, while nature trips can be booked for those hoping to catch a glimpse of whales, turtles or dolphins. A must-see is also the Soufriere volcano - the world's only drive-in volcano.
Shopping
The capital city Castries is a prime spot for shopping, particularly for local goods such as jewellery, cigars and crafts. The city market is over a century old, and still serves as a cultural hub for local life, and a great chance to purchase fresh, locally caught fish if self-catering. Soufriere, and other tourist hotspots, are also catered for by local markets and marine-side shops which serve cruises stopping off at the island.
Excursions
If this Caribbean island isn't enough, boat trips can take visitors to islands such as Barbados or Martinique to get a wider taste of the region. However, sailing is also a way to get a different perspective of the island: an eight hour excursion will take you round St Lucia for some fantastic photo and relaxation opportunities. Other, closer islands, include Tobago Cays, Pigeon and Palm Island.
Family
Active kids can be taken on adventure tours, which will mean the whole family can enjoy the scenery while getting an adrenaline rush. Biking, sailing and horse-riding are all readily available - reputable agents can be found through your hotel. Diving and scuba trips are suitable for older children, with agents such as Island Divers equipped with fully trained staff.
Getting Around
Privately-run buses are available for transport between areas, although many tourists select taxis for all their needs. Be sure to negotiate a price before setting off, but then you are likely to be treated to a wealth of local knowledge from the drivers, which make them a great option for touring the region.