Varna Travel Guide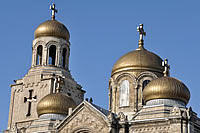 Although Varna is best known as the seaside capital of Bulgaria, the country's third biggest city has much more to offer than just sea and sand. Holidaymakers heading to Varna can expect to see plenty of monuments, beautiful buildings and museums, while the outskirts of the city offer much in the way of natural attractions.
Location
Bulgarian Black Sea coast
Climate
Varna has a typical continental climate that can see warm summers with average highs of about 30 degrees C and relatively cold winters with average lows of one degree C. The period between June and September is the best time to visit for sun-seekers; otherwise May and October can also be good times to go if you're just there for sightseeing.
Currency
Bulgarian lev
Time Difference
GMT +2
Transfer Time
Varna Airport is located eight kilometres west of the city centre and is best accessed by road, either via rental car or bus. Buses operate from the station in front of Terminal 1 roughly every 15 minutes between 05:45 and 23:00 local time.
Hotels
As you might expect from a seaside destination, Varna is home to a variety of accommodation, including resort and standard hotels, bed and breakfasts, guesthouses and self-catering apartments. Rates are likely to be highest during the peak summer season. Moderately priced lodgings include the Modus and Capitol hotels.
Attractions
Glorious beaches aside, there's lots to see in Varna. The city has a history stretching back to ancient times and can therefore boast lots of historical points of interest. Just a few of these include the remains of Roman bathhouses, the 13th century church of St Athanasius and the 19th century cathedral church of the Holy Virgin. Theatre-lovers can get their fix of performances at the Marine Garden and the Summertime Theatre, while the Archaeology Museum hosts a unique collection of artefacts from the Varna Chalcolithic Necropolis.
Shopping
Varna offers standard souvenir fare, as well as handmade goods and other items, through its various stalls and markets. There are also several shopping malls and shops bearing the names of Bulgaria's biggest chains.
Excursions
Some of Varna's most appealing sights lie some miles from the city centre. Cape Galata to the south is a stretch of countryside featuring natural springs, a lighthouse and views of the bay. To the north-east lies the Euxinograd Palace, nestled in a beautiful park, while the rock formations of Pobitite Kamuni to the south-west and the forest near the Valley of Kamchiya River offer more natural delights.
Family
Varna's main attraction for children is likely to be its beaches, but there are several other places for families to visit, including the children's section of the Health Museum and the Puppet Museum. Animal lovers should check out Varna's aquarium, zoo and dolphinarium.
Getting Around
Trolley and standard buses comprise the main form of public transport in Varna. If you're looking to explore the surrounding region the city is situated on the national rail network. Sea transport is available to other coastal cities, such as Bourgas.