Vienna Travel Guide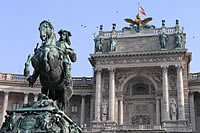 The beautiful and romantic city of Vienna, situated on the Danube River, is famous for its splendid Opera but is also full of history, culture and Arts and offers the visitor so much to see and do.
Location
North east Austria
Climate
Vienna has very cold winters (average daytime temperatures of 0-5 degrees Celsius) but pleasant summers (average daytime temperatures of 23-26 degrees Celsius)
Currency
EURO
Time Difference
GMT +1 hrs
Transfer Time
Vienna's airport, Flughafen Wien Schwechat, is approx 12 miles east of the city centre. Transfers to the city centre by metro or bus take approximately 20-35 minutes. Taxis are also available but quite expensive.
Hotels
As expected Vienna offers quality accommodation to suit all budgets and special discounts are often available for longer stays.
Attractions
Vienna's attractions are many and include Schonbrunn Palace, State Opera House, Concert Halls, St Stephans Cathedral, The Vienna Boys Choir, Museums (some devoted to famous composers), Galleries, Churches, performing horses at the Spanish Riding School and wonderful parks to explore.
Shopping
Vienna also has great shopping from designer fashions in the large high-street chains in the main shopping centres, local arts and crafts in smaller traditional shops and even markets for those looking for bargains. Be sure to also enjoy the ambiance of the traditional Viennese coffee houses, cafes and restaurants offering quality food and drinks at budgets for all visitors.
Excursions
There is a wide selection of excursions in and around Vienna to choose from, including City Tours, Danube Valley, Vienna Woods, cruises along the Danube and of course a trip to Vienna wouldn't be complete without a night out at The Opera or a ride in one of the horse drawn carriages.
Family
Vienna is definitely family friendly and some hotels even offer child discounts. A special attraction for the children is the Prater Amusement Park and Ferris Wheel, but they will also enjoy many of the attractions above.
Getting Around
Walking is a wonderful way to experience the atmosphere of this delightful city. However, Vienna good public transport including buses, trams and metro. Private taxis and car hire is also available.