Valencia Travel Guide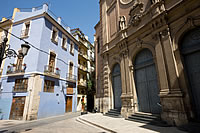 A Spanish treasure, dripping with history, Valencia has everything: art, museums, shopping, a vibrant nightlife and a relaxed Mediterranean culture which retains a wonderfully 'un-touristy' atmosphere. Whether you're looking for a jam-packed weekend break, or a few days to relax with gorgeous scenery and good food, Valencia is waiting for you to discover it.
Location
East Spain
Climate
As a Mediterranean city, Valencia enjoys hot summers rising to around 30 degrees C in August, when the humidity is also slightly reduced, while even the winter months are mild. However, visitors in spring and autumn may experience some stormy weather, where short tropical downpours are an occasional occurrence.
Currency
Euro
Time Difference
GMT +1
Transfer Time
Valencia Airport is eight miles west of the city with a shuttle bus running regularly between the two every twenty minutes, at a cost of around 2.5 euros. The local bus service is cheaper, but the journey takes longer. Taxis are always available opposite the arrivals hall, while two underground Metro services runs from the regional flights terminal to the city centre.
Hotels
The dramatic Silken Puerta Valencia Hotel is located in the modern area on the Cardenal Belloch, around a fifteen minute walk to the old town. A more central, and no less stylish, option is the Hospes Palau de la Mar Hotel at the Navarro Reverter while the Hilton offers magnificent views and is located close to the Congress Hall.
Attractions
One of the main pleasures of this historical city is exploring its streets and plazas, such as the famed Plaza de Ayuntamento and de la Virgin. However, a must-see is the City of Arts and Sciences: comprised of unique futuristic architecture, including the largest marine park in Europe. Other sites include the Gardens of Turia and the ancient Arab baths of Banos Alimrante.
Shopping
Ceramics dominate local craft shops and markets: head to the Plaza Redona for the best choice. Exquisite fans are also made in the local area, some encrusted with mother-of-pearl for a uniquely beautiful piece of memorabilia. The Mercado Central market is one of the longest running food markets in Spain, but is still a great place to sample local food and wine, while admiring the impressive architecture.
Excursions
La Albufera nature reserve is a great place to visit for quiet beaches and birdwatching: it can be reached by bus. Also accessible by public transport is the beach of Sagunto, which also hosts a Roman Amphitheatre. If taking a longer break to Spain, then Barcelona is a high-speed train ride of less than three hours away.
Family
Although Valencia is ostensibly an adult city, full of cafes and history, there is still plenty to keep the kids entertained. The Valencia Zoo is a popular day out, with animals and gardens to learn and play. The striking Gulliver is also well worth a look: based on the tale by Jonathan Swift, children can clamber over the giant sculpture and visit the tiny city of Lilliput built inside him.
Getting Around
The Metro, bus and tram systems in the city is very comprehensive, with details available at the tourist information office. The Valencia Tourist Card allows freedom to travel on all three, as well as offering discounts at various shops, restaurants and tourist attractions throughout the city.