Washington Travel Guide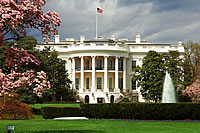 Perhaps the ultimate US city break location, Washington has a plethora of sightseeing opportunities for all. As well as the obvious politically-themed attractions, the capital also has a host of cultural must-see sites and a vibrant nightlife.
Location
Close to the US east coast, between Maryland and Virginia
Climate
Washington sees hot and humid summers, mild springs and autumns, and cold winters. Average temperature highs are at about 31 degrees C in July and eight degrees C in December and January.
Currency
US Dollar
Time Difference
GMT -5
Transfer Time
Washington Dulles is the main international airport if you're looking to get to the US capital from overseas. It is situated some 26 miles west of Washington, with a taxi journey between the two points costing about $50 (£25), or you could alternatively get a Washington Flyer bus or the door-to-door SuperShuttle. Baltimore/Washington International Airport also serves international flights, while Ronald Reagan Washington National Airport primarily deals with domestic services.
Hotels
Washington isn't all business hotels and modern but dull guesthouses. The city is home to a number of swish luxury establishments, as well as family-friendly and small but stylish boutique hotels. The Washington Plaza Hotel is one of the best known providers of decently priced and centrally located accommodation, while big names such as the Hilton are also on hand to provide an upmarket stay.
Attractions
When it comes to sights you'll be spoilt for choice in Washington. You could take a tour of the imposing White House, see the Lincoln and Jefferson memorials, visit museums such as the Smithsonian National Air and Space Museum and the International Spy Museum, take in a play at the Shakespeare Theatre Company, see the Washington Ballet, or wander around the other Smithsonian museums.
Shopping
As you might expect, Washington is home to extensive shopping facilities that cater for every taste - whether you want to grab a bargain at one of the outlet shopping malls a few minutes away from downtown Washington or browse the designer rails at the smaller boutique stores at Capitol Hill.
Excursions
The nearby Skyline Drive and the Blue Ridge Parkway offer up superb views in Virginia, or you could get back to nature by hiking along the Appalachian Trail. You could also head to Baltimore - just 30 minutes away by train - to take in another popular US city.
Family
Attractions likely to be of interest to children include the Bureau of Engraving and Printing, where you can watch cash being produced, the Smithsonian space and natural history museums, Rock Creek Park for a spot of outdoor fun and the National Zoo.
Getting Around
Washington is best explored on foot, but you can also take the Metrorail, which has a base fare of $1.35, and the Metrobus to most locations. Alternatively, there are plenty of taxi services available, as well as tour buses for when you're feeling lazy or haven't got much time on your hands.