Halifax Travel Guide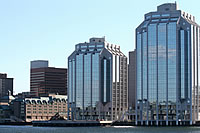 Holidaymakers heading to Halifax are likely to fall in love with the harbour sights and sounds of the municipality. Halifax has a mixture of city culture and nightlife together with quaint fishing villages and traditional festivals, offering something for everyone.
Location
Nova Scotia on the east coast of Canada
Climate
Halifax enjoys a slightly cooler climate than inland Canada, thanks to its seafront position. Average temperatures can reach 19 degrees C in August and plummet to -4.4 degrees C in January. Summer temperatures have previously soared as high as 33 degrees C, however.
Currency
Canadian dollar
Time Difference
GMT -4
Transfer Time
Halifax Standfield International Airport is located about 30 minutes away from the centre of Halifax. Taxi and shuttle bus services are readily available for transfers, as are limousine and car rental companies.
Hotels
There are plenty of hotels, bed and breakfasts and guesthouses for every type of budget. If you haven't got much to spend try the Clifty Cove Motel or Halifax Backpacker's Hostel. Mid-priced hotels include the Waverley Inn and the Halifax Marriott Harbourfront, while upmarket establishments include the Prince George and the Four Points by Sheraton.
Attractions
Halifax's rich maritime history means that there is much to see and do in the area. The Maritime Museum of the Atlantic houses a collection of artefacts from the sinking of the Titanic, while Province House and the Halifax Citadel are two examples of some of the striking architecture that can be found in Halifax. You could also take a brewery tour, pop into one of the municipality's numerous art galleries or simply stroll along the busy waterfront, which is packed with restaurants and venues.
Shopping
Large complexes such as Mic Mac Mall and Halifax Shopping Centre are on hand for general shopping needs, while smaller and more interesting stores are also scattered around the region. The Historic Properties and Barrington Place are home to a number of boutiques, while Fisherman's Cove in Eastern Passage is perfect for picking some local goods and arts and crafts.
Excursions
There's plenty to see outside of the centre of Halifax. Try heading south and west along the coast for some beautifully rugged scenery, or travel to the eastern shore for a spot of fishing and a visit to the numerous parks that abound here. Nearby Dartmouth is also home to attractions such as the Cole Harbour Heritage Farm Museum and the Black Cultural Centre of Nova Scotia.
Family
Children are likely to enjoy a ferry trip between Halifax and Dartmouth, as well as educational attractions such as the Discovery Centre and the Museum of Natural History. There are also numerous special events specifically aimed at children and families throughout the year, including the Get Set for Life Tour and the Kermesse Fun Fair and Flea Market.
Getting Around
Buses and ferries make up Halifax's public transport system, with both forms of transit available on a regular basis in the downtown area, although they are not quite as frequent outside the centre. Taxi services are available, however.