Toronto Travel Guide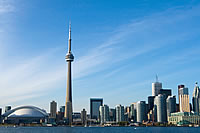 Canada's biggest city offers a tourist experience to match its size. Toronto boasts a huge array of cultural attractions, entertaining events and spectacular buildings. There's always something to do year-round, making it an ideal destination for all seasons.
Location
South-eastern Canada in the province of Ontario
Climate
Temperatures vary widely - from lows of minus ten degrees C in the depths of winter to highs of 27 degrees C in July. On average, however, it is generally mild for most of the year.
Currency
Canadian dollar
Time Difference
GMT -4
Transfer Time
Toronto Pearson International Airport is the main air hub for the region and is located about 25 miles from the heart of the city. It can take between 30 and 40 minutes to travel between the two points by car; there is also an airport shuttle, bus service and numerous taxis.
Hotels
There are plenty of hotels of all shapes, sizes and prices to choose from, so finding one to suit your budget shouldn't be a problem. If you're a backpacker, try the cheap and cheerful Affordacom-College Hostel, or if you have cash to burn why not check out the award-winning Hotel Le Germain in downtown Toronto?
Attractions
You'll be spoilt for choice when it comes to something to do in Toronto. Among the most popular attractions are the Loose Moose Magic Village water park, the huge Art Gallery of Ontario, the Air Canada Centre for the ultimate cinema experience and Greektown, which as its name suggests is packed with Greek restaurants and bars.
Shopping
Toronto is brimming with every kind of shop, store and market you can think of. Check out the biggest fashion department store in Canada - The Bay - on Queen Street, or the Dr Flea's second-hand goods market, or a host of specialist store selling everything from cigars to dollhouses.
Excursions
There are lots of things to see just a short drive from the city. North of Toronto is the Kortright Centre for Conservation, while to the south-west you'll find the Royal Botanical Gardens, which features two storeys of beautiful plants and flowers. Elsewhere, you should not miss a trip to Lake Ontario and an outing to the spectacular Niagara Falls.
Family
There's much to entertain in the city if you're flying to Toronto with the kids. Check out Toronto Zoo, which harbours more than 450 species from around the world. Or why not make an educational visit to the Ontario Science Centre or go on the African Lion Safari in Cambridge, about an hour's drive from Toronto?
Getting Around
Toronto offers a comprehensive public transport system comprising of subways, buses and streetcars. A single fare applies across all of these modes of transport under the Toronto Transport Commission, while the Go Transit bus system operates routes across Ontario. If you prefer to drive, the city is easy to navigate with its grid layout, while pedestrians can experience the unique underground walkway in times of harsh weather, enjoying numerous underground shops and eateries along the way.