Vancouver Travel Guide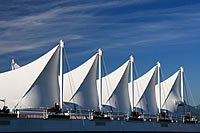 This vibrant, colourful corner of Canada holds many attractions for both fun-seekers and those looking for a quiet break. Vancouver is tempting to people from all walks of life as it harbours a population with a wide range of origins and a host of things to see and do to suit all tastes. The city is bounded by spectacular scenery, making it the perfect getaway for those who want both the excitement of city life and the serene beauty of the natural world.
Location
South-west Canada in the province of British Columbia
Climate
Temperatures are mild year-round; expect highs of 23 degrees C in summer and five degrees C in winter.
Currency
Canadian dollars
Time Difference
GMT -7
Transfer Time
Vancouver International Airport is located 25 miles from the city centre. Transport between the two points is readily available, with taxis, airport buses and public buses on hand.
Hotels
As you might expect, a city the size of Vancouver has all kinds of accommodation to suit every need and taste. It is home to no less than two five-diamond hotels as rated by the American Automobile Association and a plethora of mid-price and budget hotels, bed and breakfasts, guesthouses, campgrounds and hostels. Average prices hover around the C$100 (£44) mark per room.
Attractions
Vancouver has enough in the way of sights to keep anyone occupied beyond the length of their intended stay. Just a few highlights include the 100-year-old Christ Church Cathedral, the Dr Sun Yat Sen Classical Chinese Garden, historic fur trade site Fort Langley, the dizzy heights of the Harbour Centre Tower and even the chance to go whale-watching.
Shopping
A melting pot like Vancouver is always expected to offer an eclectic shopping experience - and in that respect the city fails to disappoint. Ranging from huge shopping complexes to tiny boutiques tucked away in hidden sidestreets, there is sure to be a shop for everyone. The diverse ethnicity of the local population means that specialist food shops and unusual gift stores are never in short supply - perfect for that special present to take back home.
Excursions
With its beautiful natural surroundings, the options for day trips are numerous. Why not try taking a guided walk through the West Coast rainforest, or go ocean kayaking along the Vancouver coastline? Visitors can also go fishing for salmon, river rafting and touring through the North Shore and up Grouse Mountain.
Family
Parents can breathe a sigh of relief - there is much to occupy the kids in Vancouver. Children will love the Granville Island Waterpark, Greater Vancouver Zoo, the Playland amusement park, the 1920s-focused Burnaby Village Museum, Vancouver Aquarium and Stanley Park. Similarly, even the fussiest of young eaters will find little to complain about when faced with the vast choice of restaurants and cafes that Vancouver offers.
Getting Around
The main public transport system in Vancouver consists of the TransLink network, which comprises frequent buses, trains and ferries to take you pretty much anywhere you want to go in and around the city. Visitors can take advantage of a variety of network-wide tickets and passes to travel around Vancouver relatively cheaply.