Calgary Travel Guide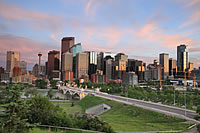 Calgary is the biggest city in the Canadian West and offers all of the benefits of a huge metropolis, together with superb mountain and prairie scenery and a distinct sense of its western heritage. While much of Calgary is now sleek and modern, many of its attractions and events still hark back to a time of cowboys and rodeos.
Location
Southern Alberta, at the foot of the Canadian Rockies.
Climate
Calgary has short, warm summers tempered by cold, long winters. Average temperatures are around the 20 degrees C mark between June and August, dropping to 11 degrees C until November and further to minus 11 degrees C between December and February. Spring tends to see a slight nip in the air with an average temperature of nine degrees C.
Currency
Canadian dollar
Time Difference
GMT -7
Transfer Time
Calgary Airport is located just over ten miles from the centre of the city. You can get a public bus, taxi and various shuttle services between the two points. If you feel like splashing out, you can also prearrange a limo or catch an airport sedan, an upmarket taxi service for those with money to burn.
Hotels
There are more than 11,000 rooms available to travellers in Calgary, ranging from hostels and budget hotel lodgings to boutique establishments and guest ranches. The usual big name chains dominate in the downtown area, but an investigation of the outer parts of the city will yield numerous modestly priced hotels.
Attractions
The Calgary Tower offers stunning views of the city and the Rockies, making it a favourite for tourists. Elsewhere, the Chinatown district is worth exploring, while the indoor Devonian Gardens provide a welcome splash of green in the heart of the city. The Eau Claire district is particularly popular among locals and visitors alike and is home to an urban park, an indoor market with a cinema and numerous pubs and restaurants.
Shopping
Stephen Avenue Walk is the main shopping street in Calgary and is home to a number of well-known retailers and luxury stores, with a massive mall located at one end. Specialty outlets and havens for label lovers abound across Calgary, selling items such as antiques, local gemstones, contemporary Western fashion and more.
Excursions
It's worth spending a day or two exploring the rugged beauty of the Rockies, even if skiing isn't your thing. Banff National Park offers a range of sporting, spa and hiking activities, while the Kicking Horse Mountain Resort in Golden also provides a number of summer pursuits. Other day trip opportunities exist in the form of excursions to Edmonton and Medicine Hat.
Family
Calgary Zoo is one of the best in the country and sure to be a hit with the kids. You could also head to Fort Calgary and the Heritage Park Historical Village to learn more about the city's Western roots, or visit the Telus World of Science for some hi-tech thrills.
Getting Around
Calgary has a comprehensive bus system, with relatively cheap day passes available if you plan to travel around a lot. You can also rent a car or flag down one of the many taxis - Calgary is a big city and you won't be standing around for long.