Crete Popularity Soars during Summer Heat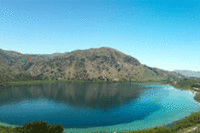 The latest figures for flight trends reveal that Crete has skyrocketed in the rankings as a popular summer getaway. As the World Cup attracts visitors to Johannesburg and the British temperature continues to rise, many people's thoughts turn to short breaks and holidays to the Greek island, which is fast becoming one of the most popular destinations on the flight trend ladder.
Skyscanner regularly publishes data on the changing trends of country popularity. Whilst the top four slots, those of Malaga, Alicante, Palma and Tenerife have held their own, a rising number of people looking for destinations located further afield have opted to utilise cheap flights from airports such as London Gatwick and Birmingham for quick access to the Mediterranean climes of Crete. With two airports, Heraklion and Chania, both of which currently offer alternative travel options for visitors, visitors are able to experience two of Greece's largest cities with relative ease.
Located on the North mid coast of Crete, Heraklion encompasses the largest population of the entire island, offering tourists the ideal opportunity to indulge in Greek culture and the day-to-day bustle of city life. Crete offers visitors a vibrant nightlife, traditional and modern shopping locations and a fine array of restaurants and local cuisine. Tourists visiting the island will find Heraklion provides everything that Crete has to offer. Meanwhile, those wanting to explore the island's natural landscape are encouraged to travel to Chania and pay a visit to the island's only lake, Lake Kournas, and spend time exploring over 3,000 caves and a handful of beautiful beaches, before stopping to enjoy excellent food at the wide range of tavernas available. And with the British summer continuing to heat up, quick and cheap travel to Crete is likely to have the island's popularity rising for some time to come.