Cheap Flights to Greece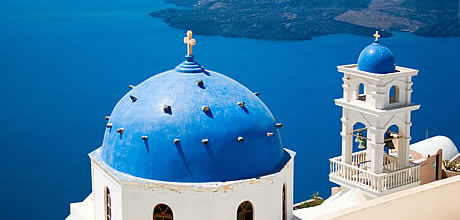 Book flights to Greece and the Greek Islands, a country that is full of ancient history. Fly to the city of Athens and view the remarkable Archaeological Sites, including the Acropolis with its many monuments including the The Parthenon , The Temple of Athena Nike and The Propylaea. Greece is not only popular for its history, but also for the golden sandy beaches, clear blue seas, great weather, Greek entertainment, fabulous food and much more.
Athens
Search for flights to Athens and visit the cradle of Greek civilisation. Greece is steeped in history and visitors will love exploring its many ancient architectural sites and monuments such as The Acropolis, Hadrian's Arch and Pathenon. It is also the gateway to the Greek Islands.
Chania
Search for Flights to Crete and visit Chania, built around the harbour Chania is very scenic and the old town offers archaeological, museums, art galleries and many stores and tavernas.
Heraklion
Heraklion is the largest city on this island and serves as a gateway for visitors who have booked flights to Crete. Nearby towns include Agios Nikolaos, Almirida, Chania, Elounda, Hersonissos, Kalives, Malia and Rethymnon.