Queensland Popular with Water Sport Enthusiasts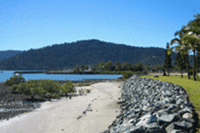 While the summer sun graces Britain with its presence, the lure of Australia still attracts many Brits to its delights, especially for those who love water sports. With flights from both London Heathrow and Birmingham offering competitively priced options to the Queensland's capital city of Brisbane, a host of popular sports and destinations could extend the British summer into a glorious Australian holiday.
Still a hugely popular destination with British tourists, especially backpackers and young single adults wanting to experience culture on the other side of the world, Queensland incorporates its love of water sports with the full aussie treatment. As the state's Season of Sailing commences, a host of holiday offers are providing visitors with the perfect package of sailing courses and beautiful accommodation. One such option includes the once in a lifetime opportunity to join the crew of a racing yacht team and participate in sailing races held around Hamilton Island. Queensland Holidays have put together some incredible packages for travellers including the Sail & Dive package for water enthusiasts, the Tall Ship Adventure and the Sailing in Style Break, with the latter providing couples a romantic and exhilarating retreat.
A popular tourist attraction thanks to its gleaming blue sea and pristine white beaches, visitors can expect a day of water sports accompanied by cool beachside evenings. And with a range of cheaper flights available from Qantas and Royal Brunei, an extended summer can certainly be found down under.