Fly to Munich to Experience Oktoberfest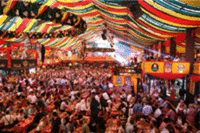 If you have a penchant for beer, good food and fun, look no further than Munich's annual Oktoberfest festival. The festival has certainly evolved since the very first Oktoberfest of 1810, which was hosted to celebrate the wedding of Princess Therese of Saxony-Hildburghausen and Crown Prince Ludwig. Today, the Oktoberfest is a vibrant, jovial and must-see event in any traveller's itinerary.
Oktoberfest attracts over six Million visitors per year, all of whom are looking to sample the delights of this traditional German festival, which sells an impressive 600,000 roast chickens, 300,000 pork sausages and 80 Oxen to the many hungry travellers. Flights to Munich from the UK are obtainable via a multitude of airports. London Gatwick, Stansted and Manchester all provide frequent flights to the city of Munich.
Oktoberfest itself is all about German tradition, the most famous and obvious of which is the excellent beer the country produces. Oktoberfest sells a large variety of beer for sampling, which has been produced from Munich's six select breweries, and can be found distributed among 14 tents, each one of which offers its own personalised vibe, crowd and history. With this in mind, it's often a good idea to visit a selection of tents to discover the ones that best suit you. Western Europeans and those from America tend to gravitate to the Hofbräu tent, which offers an overly joyous extravagance that has much appeal to the discerning newcomer of the festival. Incidentally, the Hofbräu tent is also the largest beer tent of the festival. Visitors seeking a more relaxed, honest (but equally as indulgent) visit should check out the Augustiner, Fischer-Vroni or Ochsenbraterie (ox-roasting) tents.
If you take a flight to Oktoberfest, make a point of experiencing some of the more traditional German entertainment that is on offer, which ranges from simple crossbow competitions and flea circuses, to marching bands and ceremonial processions. Whether your fancy is food, beer, fun or all three - Oktoberfest is a must-see event for any traveller looking to soak up some culture.