Bristol Airport Continues to Improve Customer Services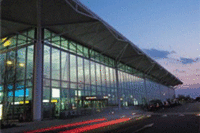 For those who haven't travelled from Bristol Airport for a while, they may be encouraged to find a number of alterations to improve customer experience. With the winter season approaching, and many holidaymakers looking to depart the British climes for warmer or colder weather, Bristol Airport could provide a welcome alternative for those living in the South West.
Whilst the recession has been difficult for most, it hasn't deterred Bristol Airport from investing significant amounts to increase customer services. Passengers both arriving and departing from the port will find increased access to the terminal, with a new walkway providing an alternative to the bus services traditionally utilised. Meanwhile entry to departures has also been expanded, with a larger security search area smoothing operations. Fast-track security channels also offer frequent flyers, or families wanting a quick and seamless journey, a simple and relaxed service.
Whilst those boarding at gates 8 - 16 are urged to leave a few minutes earlier due to the new walkway, the new flyer bus service provides a more efficient way of travelling around the airport. Operating services every ten minutes, passengers are able to take their luggage on the buses, speeding up the boarding process and smoothing out the process of flying. And finally, for those wanting to explore the retail areas, Bristol Airport has also opened a new tax and duty-free shop, providing customers with an increased range of goods from both the local area and around the world. So whether heading for the heat of Rio de Janeiro, or the snow of Stockholm, Bristol Airport could offer an attractive alternative for many travellers.