Monarch Offers New Flights to Tenerife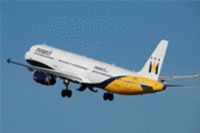 In a bid to fulfil increasing demand for flights to winter holiday locations, Monarch has revealed that they have put on a number of new flights for their Christmas and New Year flying programme. With British people wanting to enjoy a few days of winter sun during the festive season, demand for flights to Spanish and Cypriot destinations have soared.
With a number of Mediterranean hotspots noting increasing demand, Monarch revealed that extra flights are to be offered for Larnaca, Tenerife, and Malaga. Flying from Manchester, extra services to Malaga and Larnaca will be offered for the festive period, whilst the additional Tenerife service will fly from London Gatwick. Meanwhile, in addition to increasing the number of services, the airline also revealed that they were to increase the capacity for a number of existing flights. Those wishing to travel on the Gatwick to Lanzarote route, or visit Tenerife from Manchester or Luton will find more travel options available as Monarch increase their overall seat number by more than 6,000.
Speaking of the changes, Monarch's managing director, Tim Jeans, explained "Demand for flights over Christmas continues to soar, particularly to our mid haul destinations such as the Canary Islands and Cyprus, where the average temperature in December rarely drops below 20 degrees." And with Christmas only just over six weeks away, November is the perfect time for those looking to escape the chill to book their holiday in the winter sun.