Bulgaria Gains in Ski Appeal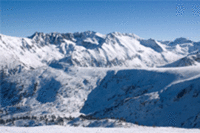 With the British cold weather imminent, many may be looking to experience some adrenalin filled winter sports. Whilst taking to the ski and snowboarding slopes of France, Austria, and Switzerland remains appealing for many, it can prove extremely expensive. However, with a rise of competitively priced resorts, Bulgaria is emerging as a popular alternative.
With the nearest airport being in the capital city of Sofia, Bansko offers winter sports enthusiasts the opportunity to indulge themselves over the colder months for competitive prices. Whilst ski lifts and hotels may be a little more basic than those found in other European destinations, the savings in price keep the attraction high for many. A study by the Post Office discovered that the average cost for a week with living expenses, lift passes, equipment, and instruction for four in Bansko cost £1,002. Significantly cheaper than many other resorts in popular ski destinations, the Bulgarian resort has been hailed as perfect for those wanting to ski on the cheap, particularly family groups or beginners.
With average prices for ski holidays rising by 15per cent in the past year, finding a competitively priced deal can be difficult. Meanwhile, flight costs also have to be included into individuals travel plans. But with flights to Sofia provided by a range of cheaper carriers including easyJet, Wizz, and Bulgaria Air, costs can be kept to a minimum. And with the Eastern European destination also proving attractive as a new and undiscovered holiday retreat, Bulgaria could be the perfect skiing resort this winter.