New Flights with Bmibaby Announced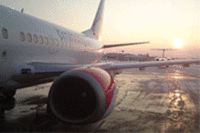 It has been revealed by low cost airline bmibaby that it will begin offering a host of new flights from Belfast City Airport. Moving current services from Belfast International Airport to help cater to growing demand, the flights will service UK airports including Cardiff, Manchester, East Midlands, and Birmingham.
In a move to allow a greater range of services for those wanting to travel to the centre of Belfast quickly and easily, bmibaby said that the new services would be available from January 10th, 2011. Adding to existing flights that operate to connect the Irish city with London Heathrow, the step will see bmibaby become the one of the biggest carriers from Belfast City Airport.
Increasing their services to a total of 48 per week, bmibaby's flights will provide nine departures per day, allowing those wanting to travel around the country suitable options for both leisure and business. Speaking of the move, managing director for the firm, Julian Carr, explained "bmibaby will offer great low fares and frequent flights, meaning the new services will work well for both business and leisure travellers looking to fly to regional airports in the UK."
The chief executive of Belfast City Airport, Brian Ambrose, welcomed the carrier to the port, adding that the increase in services was a positive move for both the local community and the thousands of visitors wanting to explore the city.