Qatar to Welcome New Luxury Hotel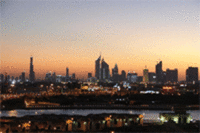 Doha, the capital city of Qatar, is set to receive a new luxury hotel. Due to open by the end of the year the St Regis Hotel will provide some of the best accommodation in the city, and be a welcome place to stay for leisure and business guests alike.
Whilst the 2022 Football World Cup is a long way off, officials in Qatar are already making appropriate moves to ensure that visitors to the country receive the best possible experience. Starwood Group, owner of the new St Regis, will be opening the 336 room hotel by the end of 2011, offering one of the most glamorous hotel options in the city. In addition to luxury suites, services will include a ballroom, the best of Doha's cuisine and beverage offerings and a luxury spa. However, the hotel will go one step further than their other hotels across the world by offering 50 butlers for guests to make use of.
With the Middle East becoming increasingly popular for British travellers, whether visiting for leisure or business, Doha is also seeing a rise in foreign guests. Located in the heart of Qatar, the city offers a huge wealth of attractions including tax free shopping, cultural museums, watersports and a number of trendy nightspots. And with a great range of flights available, from economy though to business class, airlines such as Qatar, Gulf Air, and Turkish Airlines, are set to see heightening demand for flights.