New Flights to Orlando and Cancun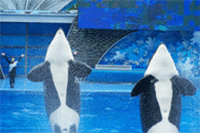 Just days after it was revealed that Mexico is an up and coming holiday hotspot it has been announced that Edinburgh airport is to host new flights to Cancun from next summer. Routes to Orlando will also commence, offering locals more options to access one of the top family holiday destinations in the world.
With Edinburgh airport continuing to add further international flights to its portfolio the airport is set to become a major travel hub of the north, Thomson Airways have revealed that from summer 2012 they will be offering services to Mexico's Cancun and Florida's Orlando. With demand for long haul services high in the Scottish city the two new services will provide the ideal travel options for Scottish travellers wanting to jet off on holidays to two top locations. Orlando is famed for its theme parks and attractions, offering excitement for the whole family whatever the ages. Meanwhile, Mexico is a destination whose stock is rising due to its cheap holiday options and iconic culture.
Kevin Brown, Edinburgh's airport manager, said "Our passengers and stakeholders are continually asking us for more direct flights from the Capital, so I'm delighted to be announcing these new destinations from Edinburgh." The addition of such flights will greatly increase customer choice. The only long haul service to currently operate from the city is Continental's New York flight. So with passengers able to save both time and money by making use of the new services, Thomson's flights are sure to be greatly welcomed.