EasyJet to Offer Larger and More Luxurious Aircraft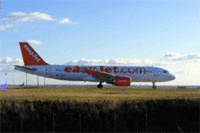 Budget airline easyJet has officially become Europe's youngest company to have 200 Airbus aircraft in their fleet. Increasing their fleet to offer more services to travellers, the company unveiled their 200th plane which was painted bright orange of mark the milestone.
Having only been in existence for 15 years, easyJet have found a strong hold in the European market and are now the fourth largest airline in the region. They offer a vast array of routes to destinations including Lisbon, Mykonos, Dalaman and Zagreb, providing British travellers with cheap and simple flights to popular locations throughout Europe.
Unveiling their newest aircraft during a ceremony in Toulouse, chief executive officer of the firm, Carolyn McCall, said "We aim to turn Europe orange and the special livery on our 200th aircraft embodies that ambition." However, after receiving approximately one Airbus every two weeks since 2003 she revealed that the company had reached their optimum fleet size. Ms McCall admitted however that easyJet were looking at the new Airbus A320neo, offering the next generation in both passenger luxury and fuel economy. So for loyal easyJet fans, the increased fleet and possibility of new larger planes will continue to provide cheap travel for years to come.