Self Catering Holidays Cheapest in Majorca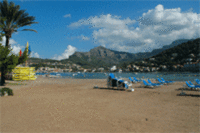 For individuals wanting budget self catering holidays it has been revealed that Majorca is the ideal destination. Spain's largest and second most populated island, Majorca was found to be cheap for holiday essentials such as bread, milk and other self-catering necessities.
Whilst inclusive holidays are great for individuals who want everything catered for them, they are often not the cheapest option. Holidaymakers who don't mind preparing their own food and shopping for groceries themselves can make huge savings on holidays with self-catering retreats. And for those wanting the cheapest place to take a self-catering holiday in Europe, Majorca is the place to go.
Speaking about the findings, Head of Post Office Travel Money, Sarah Munro, explained "Self-catering can be a great way for families to save money on the cost of their holiday while at the same time offering them more flexibility and the freedom to come and go as they please. According to our research, this is a big consideration for families."
For British travellers wanting a summer break in the sun with minimal cost, self catering holidays are ideal. And with Majorca, in addition to Menorca and Corfu, offering cheap options, Spain and Greece are perfect.