Flights with Virgin Atlantic Head to Mexico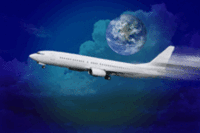 Virgin Atlantic has revealed that, as of June 2012, they will be offering flights to the Mexican resort of Cancun . Providing British travellers with the perfect route to enjoy a holiday away immersed in the iconic Mexican culture, there will be two services a week from Gatwick airport.
Demand for holidays to Mexico is rising and Virgin Atlantic has already revealed that they expect to carry approximately 94,000 passengers during the first 12 months of service. The twice weekly flights will offer a direct route to Cancun with Sir Richard Branson, chairman of the airline, saying "Many customers have asked us to fly direct to this exciting destination over the years. With its superb beaches, great hotels and cultural sites, tourism in Cancun is thriving. We believe that we can drive demand even higher by providing great competition to our rivals with our award winning product and service."
Utilising a Boeing 747-400, Virgin Atlantic will offer economy, premium economy and first class fares on the route, providing a great range of choice for those who want to explore this exciting resort. With Cancun seen to be a top holiday destination, demand for the flights is likely to be strong. And with the new direct route providing easy travel, British holidaymakers will be able to discover Mexico more easily that ever before.