Turkish Coastline A Top Destination This Summer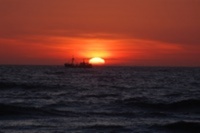 With the summer holidays not far away, thousands of British families will be preparing to enjoy time abroad and a break from everyday life. Turkey continues to be a rising star on the holiday scene, and with a multitude of coastal areas to explore, it is the perfect summer destination.
The Mediterranean is a very popular destination for British holidaymakers who want to enjoy a great climate, cheap holidays and remain fairly close to home. Turkey has seen a significant rise in popularity over the past few years as people look for alternatives to Spain, Greece and Portugal. With its beautiful coastlines surrounded by green forest and towering mountains its not surprising that interest is high.
A popular destination in Turkey is Fethiye, which is easily reached from Dalaman and offers a wealth of beautiful beaches and ancient ruins, including an 11th century fortress and a Roman theatre, to discover. Meanwhile, nearby Olu Deniz is a great spot to explore, largely for its range of fantastically quiet and serene beaches.
For those wanting an easily to reach travel spot, Antalya is perfect and it not only has its own airport but also a great range of sights and attractions. Individuals will find many resorts available and will be able to enjoy the ancient Roman harbour in addition to beaches and watersports. So for tourists wanting a trendy and easy holiday this year, Turkey is set to be the place to go.