Flights with KLM to Offer New Menu Options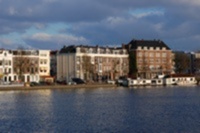 It has been revealed that for travellers making use of Amsterdam and its international connections with KLM there will be a host of new menu options available. In a bid to provide wider choice to passengers, the airline will offer 'a la carte' meals from 14th September, with those in economy especially welcoming the changes to the service.
On long haul connections from Amsterdam, those travelling with KLM will get four dining options alongside the airline's ordinary set menu. These new options will include a vegetarian meal, and dishes themed around Italian, Indonesian and Japanese cuisines. And with the meals costing between 10.50GBP and 12GBP extra, they will certainly be an affordable option for many.
Speaking of the decision to roll out the new menu options, Managing Director of KLM, Erik Varwijk said "This is a further response to growing customer demand for customised services, offering more choice and more options for customers in determining their own flight experience. The greater range of menu options follows the introduction of a broader range of seat comfort options and a wider variety of in-flight entertainment."
With British travellers always looking for attractive offers to provide them with a little more on their journeys, KLM's latest menu changes could prove popular. And at very affordable prices, the themed meals will be very welcome to those travelling through Amsterdam to destinations further afield.