Michigan A Top Spot for Autumnal Retreats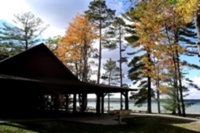 Whilst holidays to America often revolve around thriving hotspots such as New York, Miami and Los Angeles, many of the states have their own charm throughout the seasons. For a beautiful reflection of autumn there is no better place than Michigan. And with its Great Lake and vibrant deciduous forests in full colour change, it is a stunning sight to see.
With Detroit airport easily accessible, and even Chicago offering a great alternative for access to Michigan, holidaying in this state can be easy. Stella Clery-Ackland of the US Travel Association revealed that many tourists flocked to New England to see the foliage colour change, but Michigan was a great spot to see the autumn season in full vibrancy too.
One of the best ways for tourists to truly experience the changing forest is to drive along US Highway 2 between St Ignace and Ironwood, taking in the National Scenic Byway and Hiawatha National Forest. With apple orchards, harvests, famers markets and huge pumpkins, it is the ideal place to revel in seasonal change. Meanwhile, a trip to the Tunnel of Trees between Harbor Springs and Cross Village will offer "historic cider mills, lighthouses or charming covered bridges," allowing visitors to get an unbridled view of Michigan in all its