Flights with Lufthansa Hailed as Best to Asian-Pacific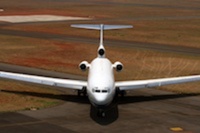 German airline Lufthansa has been named as the European airline which offers the best flights to the Asian-Pacific area. The airline has won many accolades for its achievements with the aviation sector, it also offers the most flights between Europe and Asia and to cap it all it has been named as a top firm for those flying east.
Within the South-East Asian aviation industry, Lufthansa has already won awards for service, which can be attributed in part, at least, to the integration of a new First Class Cabin to complement their current Business Cabin.
Meanwhile, the firm also made over their fleet of 747-400's, giving Business Class passengers the opportunity to enjoy the latest in comfort and style. Additionally, First Class travellers can enjoy a new cabin concept, offering a seat which is both an aisle and a window seat. The company has also revealed that it is set to enlarge its fleet with the latest Airbus A380.
Having already won 2011's prestigious Best International Airline award, Lufthansa has been hailed as the company offering the best flights to the Asian-Pacific. Meanwhile, with services to top cities including Los Angeles, Bangkok, San Francisco and Buenos Aires, Lufthansa is set to see popular demand for its flights increase further over the coming months and years.