Conde Nast Traveller Highlights Late Summer Turkish Retreats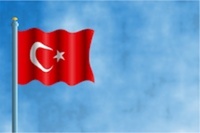 Popular travel magazine Conde Nast Traveller has revealed that, for individuals looking for late summer getaways, Turkey is ideal. The Lycian coast offers a great range of getaways as the British autumn looms, and with culture, beaches and a good climate, there is little more that tourists can ask for.
With much of the British summer proving to be wet, last minute summer holiday bookings are significantly up, with individuals wanting to try and get some sun. With a large range of operators including Monarch and easyJet offering flights to Dalaman, access to Turkey is easy, even after the popular peak season has ended. Dalaman itself is a great place to visit, with temperatures warm up until October. With cheap accommodation, great beaches and thriving nightlife, the area has much to offer tourists looking for a vibrant holiday. And for individuals wanting to venture a little further afield, historic coastal towns and villages are numerous, offering the chance to indulge in Turkish culture, cuisine and shopping.
In addition to Turkey, Conde Nast Traveller revealed that France's beautiful and rural Dordogne, Italy's Amalfi coast and Greece's Santorini were all good alternatives for British individuals heading out on late summer holidays.