Flights with ANA to Enjoy New Dreamliner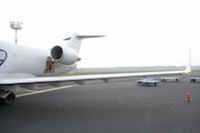 After what seems years of delays, it has been revealed that Japanese Airline ANA are to launch the new Boeing 787 within the next couple of months. Also known as the Dreamliner, the latest environmentally friendly aircraft will be first used on short haul flights, before having a Frankfurt to Haneda service rolled out, offering next generation travel to European travellers.
After many delays, the Federal Aviation Administration revealed that the new aircraft was ready to be launched. Speaking about the next generation functions that the Dreamliner brings to the industry, U.S Transportation Secretary Ray LaHood said "The Boeing 787 Dreamliner is an incredible technological achievement - one that sets a new standard for innovation. The new engine technology is fuel-efficient and reduces noise, minimizing the impact on the environment." He added that the 787's eco-friendly innovations, which included the aircraft being largely made from composite materials and fuel savings of up to 20 per cent, would lead the way for Boeing's competitors.
Launching in October, Japanese airline ANA will be the first carrier to make use of the plane which will take its debut commercial flights on 26th and 27th October between Tokyo and Hong Kong. However, from January 2012, ANA will begin a service between Frankfurt and Haneda, allowing British individuals travelling to Japan the opportunity to experience a new aircraft with optimum efficiency and luxury at the forefront of its design.