New Flights to Mexico City with Lufthansa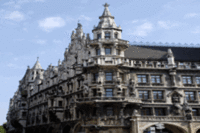 Popular German airline Lufthansa has revealed that they are to offer new flights to Mexico City from Munich. Staring with effect from March 2012, the company will offer five flights a week on an Airbus A340-600, offering British travellers an increased range of options for travelling to this popular holiday destination.
From 26th March 2012, Lufthansa will add to their current Frankfurt to Mexico City service by adding Munich based flights. Two Airbus configurations will be used for the service, with one offering eight First Class seats and 60 angled lie flat business options, whilst the other offer 66 Business Class fares. Flights will depart from Munich every day other than Wednesdays and Sundays, offering overnight services for those travelling to Mexico City.
Speaking about the new connection, board member of Lufthansa German Airlines, Thomas Klühr, said "We are delighted to be able to offer a connection from our Munich hub to Central America. In economic terms, in particular, Mexico is gaining in importance for the Bavarian market." And whilst the route is primarily intended to be of use to residents of Munich, the flights will also be a useful additional option for British individuals wanting to travel to Mexico.