Latest Awards for Turkey Push it Higher as Holiday Hotspot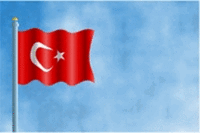 Turkey has been a rising star on the holiday hotspot scene for many years, but the latest plethora of awards is set to see the popular nation in even greater demand. Winning 15 awards at the 2011 World Travel Awards, Turkey has confirmed that it remains a firm favourite, with huge numbers of British travellers flocking to the country for sun and sea.
The prestigious 2011 World Travel Awards are renowned in the industry for highlighting countries of significance for tourism, with winners often seeing a huge increase in demand from visitors as a result. Winning 15 awards in total, one the key awards, that of Europe's Leading Beach Destination, went to the resort of Oludeniz. Additionally, Europe's Leading Tourist Board was snapped up by Turkey, proving that not only does the country have great beaches but also fantastic services and facilities which make visitor stays very enjoyable.
Industry expert, Alistair Daly, revealed that Antalya, Bodrum and Dalaman holidays remained popular with the British public. "This recognition from the World Travel Awards confirms Turkey's position as one of the best holiday destinations in the world and as a country that is going to be on the forefront of creating dream holiday experiences for travellers for many years to come," he added.