British Airways Set to Expand Heathrow Operations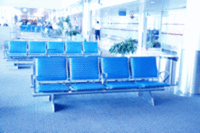 It has been revealed that British Airways (BA) has bought Heathrow flight slots from BMI. Whilst the sum has not been disclosed, BA said that it had purchased six daily slots from the Lufthansa owned airline, allowing the company to expand the number of services that they offer to customers.
BA and Iberia currently have a combined 44 per cent control of all of Heathrow's slots, with these latest additions to their portfolio increasing this to 45 per cent. One of the world's busiest airports, London Heathrow commands high premiums for landing and departure slots, with Continental Airlines said to have bought four landing bays three years ago for an estimated figure of £136m. The move by BA will offer a substantial increase to their current services, allowing the company to provide more flights to visitors than ever before and at a greater variety of times to suit both leisure and business customers.
Whilst the move could see some BMI services cancelled, BA customers can expect a larger range of flights to choose from. And with the airport seeing over six million travellers during August 2011 alone, BA can expect to enjoy increased demand as their portfolio options rise in the coming months.