Dubai Bound Flights to Air France Feature Business Class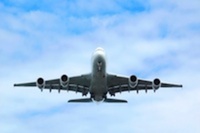 Popular airline Air France has revealed that services journeying between Paris and Dubai will now benefit from luxurious Business Class. Upgrading the route to feature flights aboard the superjumbo A380, daily services will offer Premium classes from December 5th and provide passengers the optimum comfort possible.
Revealing the information on its website, Air France said "With the Airbus A380, Air France has taken-off into the future: in November 2009 Air France became the first European airline to operate the wide-bodied aircraft! In the upcoming winter months our A380 aircrafts will service New York (JFK), Johannesburg, Washington D.C., Montreal and soon Dubai. In total our fleet will comprise of 12 aircrafts with this type."
Dubai in particular is a very popular tourist destination, especially in the colder months when British individuals are looking for a touch of winter sun. With the Air France flights now offering connection possibilities to enjoy Premium and high quality Business Class, the service is set to be very popular. With 2-metre long seats including 15-inch personal entertainment screen, storage container and power outlet, those travelling in upper classes will be very attracted to this latest offering to a well travelled destination.