Flights With Flybe Offer Late Edinburgh Service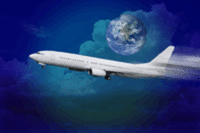 It has been revealed by Flybe that its franchise partner Loganair is to offer a new evening service between Shetland and Edinburgh. Having trialled the service last winter, the popularity has brought about the flight's reintroduction, with the evening route offering travel for those wanting to get to the Scottish capital.
Operating at 7.50pm, the Shetland to Edinburgh flight will take just 90 minutes, allowing passengers to get into the capital city of Scotland around 9.30pm. Whilst the trial run was only provided throughout the winter months, it was confirmed that the new Flybe service would remain in place on both winter and summer schedules.
Loganair's chief operating officer, Jonathan Hinkles, said that the franchise was vital for residents of Shetland, providing them with services to Edinburgh, Inverness, Kirkwall, Glasgow and Edinburgh. "This announcement ties in nicely as we approach the festive season and people are starting to think ahead to Christmas. By adding this later flight on a Friday, people are able to travel easily to the capital after work and travel back on flights over the weekend without having to use up any annual leave," he said, before adding that the capital city was one of the UK's most impressive shopping areas and would benefit greatly from the late night service.