Dubai a Top Winter Destination for Brits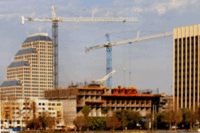 A new poll of 15,124 British individuals has revealed that Dubai is one of the most sought after destinations for a winter getaway. The glistening city in the United Arab Emirates (UAE) found fame alongside other top spots including Orlando, Bangkok and Sydney.
British winter can be particularly grey, with snow, ice and wet gloomy weather dampening many people's spirits. A trip away to sunnier climes at this time of year can be the perfect way for a little refreshment and it seems that individuals living in the UK have a number of destinations on their wish lists.
In addition to the top four locations, destinations in India were also sought after whilst Johannesburg, Manila and Las Vegas also did well in the survey. The poll highlighted that 83% of people had cut back on their expenditure so as to afford a holiday, showing that the turbulent economy is affecting people's holiday budgets. However, holidaying is still a top priority for British individuals, with many looking for ways to make their budget go further by enjoying cheaper countries and flights. However, with destination trends widely split, with Europe, North America and Australasia noting 25%, 18% and 17% respectively, holidaymakers are still travelling all over the world.