Just the Flight Recommends Multi-Destinations to Maximise Holiday Time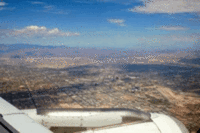 It has been revealed that an increasing number of British travellers are enjoying multi-destination breaks, with Just the Flight recommending such a holiday as the ideal way to maximise time away. Though staying in one location can be great, cutting long distances into chunks by staying in different countries along the route provides the perfect opportunity to see more than ever before.
A popular place for British travellers is the US, with a huge range of states offering a variety of experiences for multi-stops. Both Dubai and San Francisco have become popular for those on long haul routes to break the journey for a few days. Meanwhile, Mexico also offers the ideal destination for a multi-nation break, with tourists able to enjoy the country's stunning beaches before heading off to New York or Las Vegas.
In 2012, Malaysia's Kuala Lumpur is expected to see a rise in British tourism, as individuals look to explore Borneo, Penang and Langkawi to get a fantastic experience of the area. Meanwhile, with China becoming more open to tourists and Latin America continuing to prove a huge holiday lure for many, multi-destination getaways will allow travellers to explore more than they ever believed possible.