Just the Flight's Top Destinations to See the Stars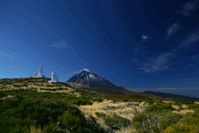 Stargazing is a fantastic experience, and with so many people living in illuminated cities and towns, there isn't the chance to see the night sky properly. However, there are some great holiday destinations, where stars, planets and even galaxies can be seen.
1. Wadi Rum, Jordan
Flights to Amman will offer access to Jordan's Valley of the Moon. August offers the chance to see the annual Perseids meteor shower, with more than 50 shooting stars often seen every hour.
2. Mount Teide, Tenerife
A favourite for British holidaymakers, a simple trip into Tenerife's Mount Teide National Park not only offers beautiful sights of the sky, but is the nearest thing to lunar scenery as described by Neil Armstrong. The best stargazing time is around the new moon, and the park's hotel offers free tours.
3. Queensland, Australia
In 2012, the Queensland coast will be the perfect place to see a total solar eclipse. Occurring on 13th/14th November, holidaying in Brisbane will provide a chance to see this rare cosmic event.
4. Big Island, Hawaii
Since the telescope was invented in 1608, Venus's path across the sun has only been seen seven times. On 5th June 2012 it will again be clearly seen as a dark disc, with the best place on Earth to see its full movement being Hawaii's Big Island.