Majorca ideal destination for winter break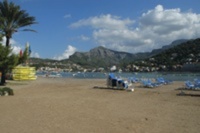 Though it may already be February, summer still seems a long way away. For individuals needing a quick break away from the gloom, Majorca is an ideal destination. With Post Office Travel Money revealing that prices have dropped by up to 40%, combined with the region's mild winters, Majorca is a top spot for those who want to spend a few days in the sun.
Located in the Mediterranean, Majorca offers a great beach holiday, with its rocky coast filled with beautiful beaches. Palma has a variety of Gothic architecture for visitors to enjoy, including the grand cathedral that stands magnificently in the city. Meanwhile, various water sports and games offer multiple opportunities for all family members to have a good time, resulting in Majorca being as good for families as it is for couples.
With a multitude of flights to be found, travel to Majorca is also easy. Magaluf remains a vibrant resort for young partiers, whilst Puerta Pollensa has a laidback lifestyle and is backed by fishing villages and mountains, making it a charming spot for those who wanting a quieter retreat. For anyone wanting some Mediterranean sun this winter, Majorca has to be a top choice.