Top spots in the Algarve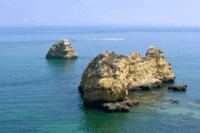 Portugal's Algarve continues to be a very popular place for British holidaymakers, with both its affordability and beautiful coastline offering huge attractions. For those visiting the region this year, there a number of top spots which shouldn't be missed out of any tour.
There are a huge number of beautiful beaches to explore, with Faro offering the perfect place to access one of the world's greatest holiday spots. Central Algarve hosts the lovely beach of Praia de Falesia, which is a stretch of sand sheltered by terracotta coloured cliffs. West of Vilamoura, the beach is ideal for a little seclusion and offers a perfect spot for sunbathing and dabbling in the surf.
To the Algarve's west, holidaymakers will find Sagres, Luz and Lagos. Some of the best beaches in the area, however, are in Carvoeiro, which though once a fishing village is now a thriving resort area. Praia do Carvoeiro is a wide bay with sheltered sand and is very popular with families. Jet skiing is also popular here, whilst there are diving opportunities too.
Finally, the eastern area of the Algarve also has some great beach spots, and for those travelling to the island of Tavira, there are some stunning sights to be enjoyed. Having Blue Flag status, the warm lagoon on Tavira is perfect for taking a dip, whilst the surrounding beaches offer some of best stretches of sand for tourists to Portugal to take advantage of.