Booking trends highlight Western hotspots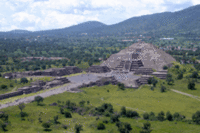 New holiday booking trend figures have shown that western countries are proving popular with British travellers. Rather than heading east, many holidaymakers are flocking to the United States, the West Indies and Mexico in search of beautiful beaches, adventuresome sights and vibrant culture.
The latest trends in the industry were revealed by holiday expert Niel Alobaidi, who said that the Dominican Republic had noted a huge 800% rise in searches. The long-haul destination has recently been highlighted as a great alternate spot to the Caribbean, offering a great climate for an affordable price. Meanwhile, St Lucia has seen a 55% rise in interest, whilst Mexico has noted a 143% rise as visitors head to the beaches and nightlife of Cancun.
"We have seen massive year-on-year growth in bookings heading west to the USA, Caribbean or Latin America, clearly highlighting the importance of value in driving customer demand. Much of this has come about because of the competitive pricing of luxury all-inclusive packages, which are perceived as a bargain," Mr Alobaidi said
With the summer only a couple of months away, many British individuals will be looking to plan their holidays now, offering them something exciting to look forward to. For those going with the trends, heading west could offer affordable flights and holiday opportunities.